The world's second Disney park was almost in . . . St. Louis?
Amazingly enough, it's true. Between 1963 and 1965, Disney worked on plans for a small park in St. Louis, Missouri that was to be called Walt Disney's Riverfront Square. Disney drew up concept art for the project, met with the mayor of the city, and even entered into detailed financing negotiations. By the time the plans were finalized, the budget stood at $40 million (the equivalent to around $373 million in 2022).
Riverfront Square would have been smaller than California's Disneyland — and, per some outlines, it might have been entirely indoors — but it would still have featured some big-ticket attractions. Indeed, many of the signature rides that have ended up in Disney parks around the world began their life on drawing boards that were intended for the St. Louis project. Pirates of the Caribbean was a Riverfront Square concept. So was the Haunted Mansion. So was a scrapped Lewis and Clark-themed riverboat ride that eventually became part of the Big Thunder Mountain Railroad. Riverfront Square would also have had its own Main Street U.S.A., a version of Peter Pan's Flight, a pirate ship, and a clone of New Orleans Square.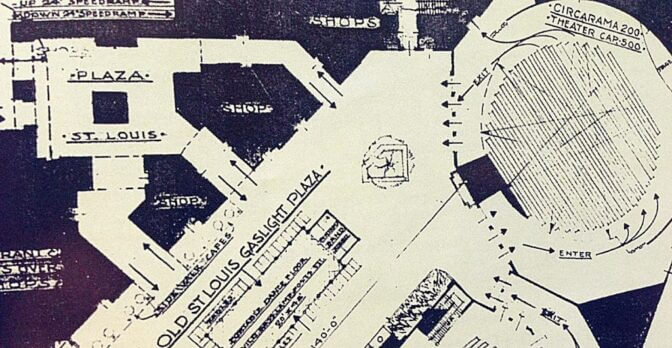 In 1965, the project fell through. A popular myth holds that Walt Disney walked out in anger after he was criticized by August Busch for planning to keep the new park free of beer. The truth is more familiar: after a couple of years of trying to come to terms, Walt remained unsatisfied that he would be able to exert the control over the park that he so desperately coveted. As a result, all of Disney's attentions were shifted down to Florida, where the governor and state legislature would soon agree to give Disney unparalleled control of the land it had started quietly to buy up. And that was that for Riverfront Square.