Shortly after Walt Disney World opened in 1971, the park's Imagineers drew up plans for a trio of new hotels to be built outside of the Magic Kingdom, on Bay Lake and the Seven Seas Lagoon. These three were the Asian Resort, the Persian Resort, and the Venetian Resort. By 1974, all three projects had been scrapped, mostly as a result of the economic downturn caused by the 1973 oil crisis. Of these three, only the Venetian Resort was resuscitated — and then killed again.
The original "Phase One" plan for the Venetian Resort called for a 500-room facility that would have been built around a series of canals, with gondolas providing transportation for the resort's guests. Per a Disney announcement from 1970:
At the Venetian Resort, an enclosed small boat harbor and intricate system of waterways will re-create the old world charm of the gamed Italian "City of Canals." Shopping will be a very unique experience as guests travel by gondola along "streets of water," and under ornate bridges linking various sections of the resort. The style is reminiscent of St. Mark's Square, complete with a 120-foot campanile which will toll the time.
The hotel would have been built between the Transportation and Ticket Center and Disney's Contemporary Resort, and placed onto the Magic Kingdom's monorail loop. It would have taken particular advantage of the Seven Seas Lagoon, with an array of water-sports available to guests.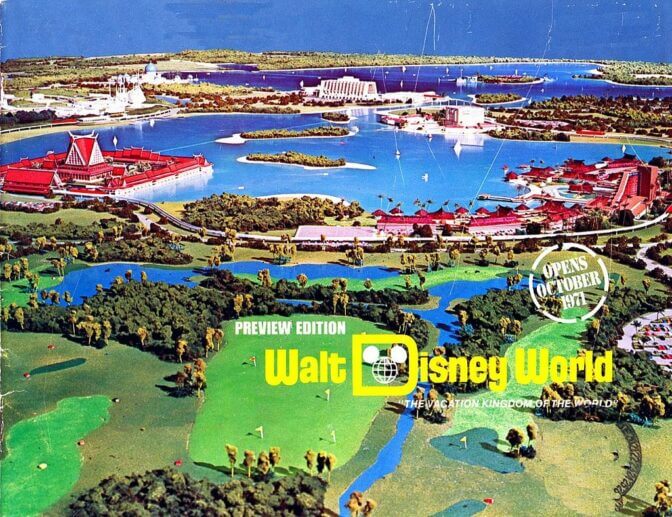 None of this ever happened, of course. But, interestingly enough, the concept didn't die. In the early 1990s, after the  opening (and wild success) of the Grand Floridian, Disney dusted off the blueprints and, with the help of the architects responsible for the Grand Floridian, began work on what would have become Disney's Grande Venezia Resort. In addition to the features from the original Venetian Resort, the Grand Venezia would have added a masquerade-themed pool, a conference center, a wedding chapel, and a host of lighted fountains.
In the end, Disney decided not to do it for a second time in a row, opting instead to build Disney's Mediterranean Resort — a project that was also scrapped after engineers discovered that the land they had designated for it (the same land as would have housed the Venetian Resort) was too swampy to utilize safely.
Ciao!