In 1989, Walt Disney World opened its third Magic Kingdom-based hotel: the Grand Floridian. Along with the Contemporary, the Grand Floridian is a centerpiece attraction, featuring prominently in the resort's advertising and marketing campaigns. But if the original plans for the area had come to fruition, it would never existed. Instead, the land that the Grand Floridian now sits on would have played host to what was termed simply the "Asian Resort."
Scheduled to open in 1974, the Asian Resort would have been:
primarily Thai in its décor and food specialties. Two-thirds of its 600 rooms are planned 'on the water' or in garden settings—the remainder will be in a 160-foot high tower building, overlooking the lagoon and a central recreation area.
Per Disney's hype materials, the facility would be:
strongly Thai in its motif. A theme restaurant and lounge at the top of its 160-foot tower building will provide an enchanting setting for nighttime dancing and stage show entertainment. Each of its 600 rooms, including 50 elegant suites in royal Thai décor, will look out on the lagoon or a central recreation area.
The resort would have been added to the Magic Kingdom's monorail loop, and, in addition to its rooms, restaurants, and swimming pools, it would have hosted an underground convention center.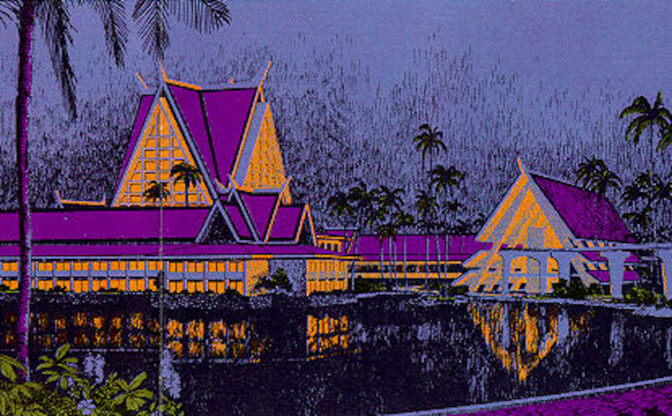 Unlike with the also-scrapped "Venetian Resort" and "Persian Resort" — which, together with the "Asian Resort" were scheduled to open soon in the mid-1970s, as part of Phase One, the first major expansion of Walt Disney World — Disney had moved from the planning to the execution stage. Hard construction plans had been drawn up, and one of  local roads had been renamed "Asian Way." Unfortunately, 1973 brought with it an international oil crisis, which brought with it a collapse in tourism. The blueprints were shelved for a sunnier day, and by the time that sunnier day came, the park had moved on.