Have you ever thought that it was a little weird that Disney went to all that effort to make Epcot feel self-contained, and to all that effort to make the Epcot resorts feel self-contained, but then allowed the Swan and Dolphin hotels to dominate the Epcot-area skyline?
Seriously, it's odd. Disney was so concerned about "breaking character" that it ensured that the Tower of Terror would fit in with the World Showcase's Morocco pavilion when the two are viewed from a distance, and yet it happily allowed a large green triangle to tower over one of its most expensive hotel complexes.
Why?
The answer, in short, is money. In the early 1980s, the Walt Disney Company was in trouble. Investors were routinely unhappy with its leadership and, at certain points, they attempted to stage a hostile takeover bid to wrest control of the corporation away from the board. After a great deal of effort, all of those bids failed, but the underlying problems remained, and the biggest of those underlying problems was that the company was running out of cash. To help fix this, Disney decided that, if and when it chose to expand its resorts, it would be better off partnering with external developers and hotel companies than building and managing its hotels itself.
To achieve this, Disney partnered with Sheraton, and recruited a Florida-based construction company called Tishman. Before long, the trio had arrived at a deal to build the Sheraton and Holiday Inn Crowne Plaza on the outskirts of the Walt Disney World complex. In order to protect Tishman's investment, Disney agreed that no new hotels would be built at Walt Disney World for a while.
As its fortunes recovered, Disney grew disenchanted with this agreement, and, eventually, it tried to break it. The result was a multi-billion-dollar lawsuit, which was eventually resolved with a fresh arrangement between Disney and Tishman. Under the new deal, Tishman would get to build an enormous convention complex within walking distance of Epcot, and Disney would have more say over the design of that complex than it had previously demanded. "Out of those talks," the Orlando Sentinel reports, "came the plan to build the Swan and Dolphin hotels and convention center."
And then, despite this major concession, the design ended up like this: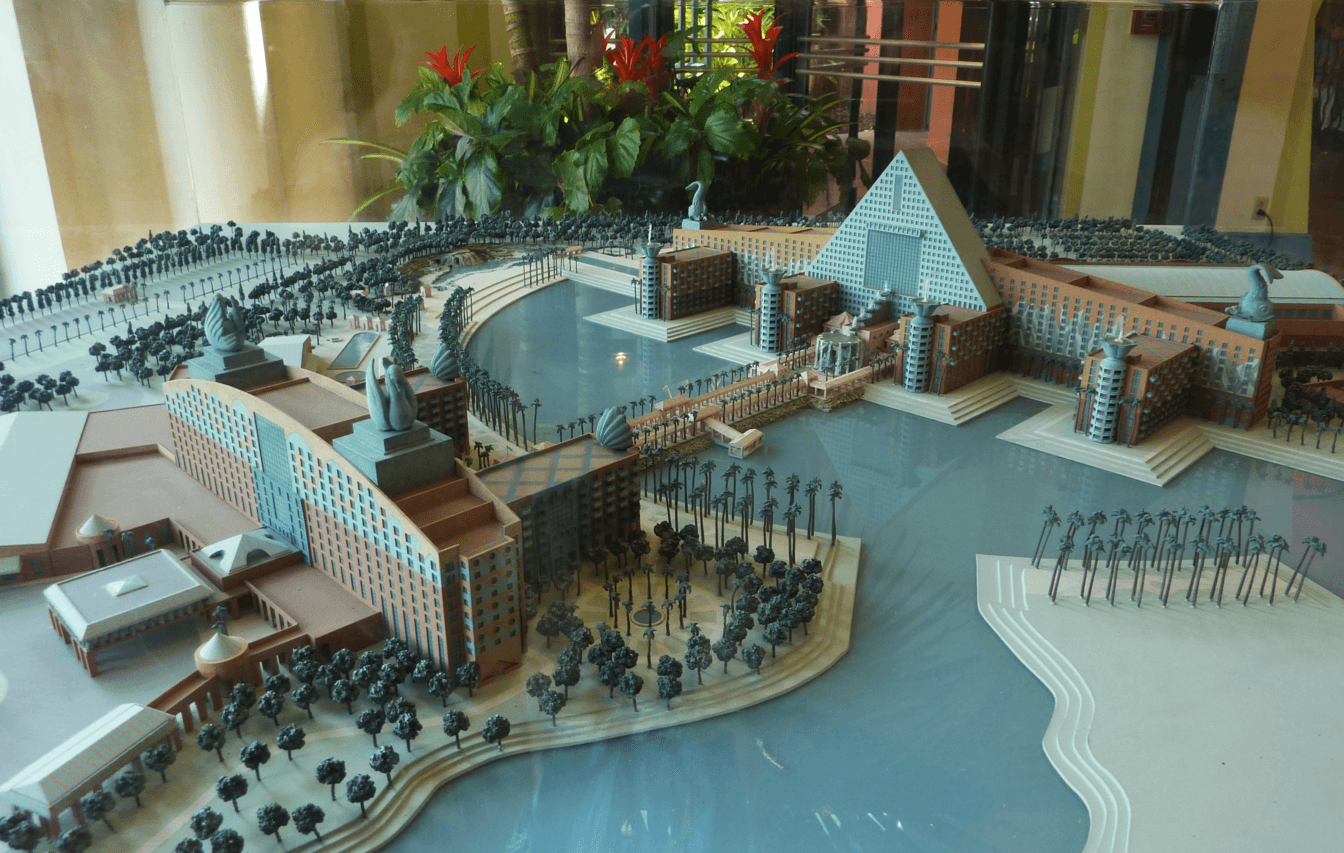 Why?
Certainly, no externally-contracted hotel was going to look as good as Disney's own resorts. But what Tishman came up with doesn't fit in with Epcot, doesn't fit in with Hollywood Studios, and doesn't fit with the Boardwalk or Yacht Club or Beach Club — which were opened only six years afterwards. Justifications for the Swan and Dolphin's unusual style tend to rely upon the idea that Disney had no choice but to build it as it was. But that isn't true. Disney had a great deal of choice. And they chose that. One can only assume that Disney's executives thought it looked good.
What do you think?